11/02 - The Demographics of Early Voting
How it compares to 2016, and what 2020 primary voting tells us
Intro
We're a little over 3.9 million total votes cast in the 2020 election so far, and that's likely to creep up over 4 million once the final outstanding mail ballots are counted. With all of this information there are lots of ways we can cut it up, so I decided to farm out what questions to answer based on what you wanted to know.
A couple days ago on Twitter I asked folks what data they'd be interested in seeing about early voting. So today, we're going to dive into some numbers a little bit based on a few of those questions.
---
The Early Voting Demographics
Certainly one of the things people have been most interested in has been the overarching demographic trends among early voters. How these have changed from 2016 may offer some idea of what we can expect to see from the statewide results.
Well, here is how the demographics of the 2020 early vote compare to the 2016 early vote.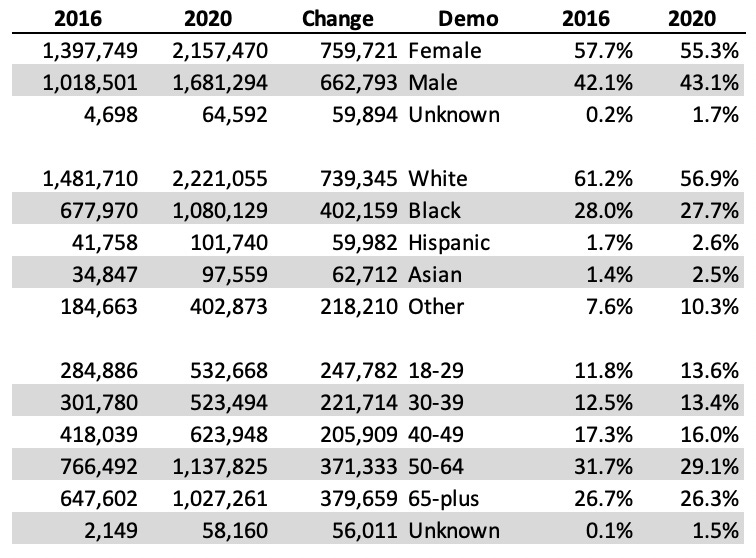 While the biggest change is JUST HOW MUCH BIGGER the early voting population is, we can also see a few trends worth discussing.
First, the percentage of white early voters fell pretty significantly from 61.2% to 56.9%. The biggest growth demographic here was the Other/Unknown group (+2.7%) but there was also significant growth among Hispanic voters (+0.9%) and Asian voters (+1.1%). Black voters remained basically steady at 27.7% (-0.3%).
We're also seeing a huge uptick in young voters. Even with 1.5 million more early voters in 2020 than 2016, we've actually seen the share of votes coming from the youngest group climb by almost 2% from 11.8% to 13.6%. We had 1.25M voters under 40 total in 2016, and we are already at 1.06M with day of voting still to come.
We should also note that in 2016 Trump won the early vote 51.0% to 46.7%, with 2.3% of the vote going to the Libertarian candidate Gary Johnson. The day of vote was 51.2%/44.7%/4.1%. His vote margins were a nearly identical 104,126 and 109,323, respectively.
Those probably won't be super useful metrics to compare against given how different this year's voting behavior will be, but at least now you know.
---
Primary Voting Behavior
Another question was around the primary voting behavior of early voters. As you may recall we actually had more Democratic ballots pulled in Georgia this year than Republican. The final totals were:
D - 1,234,230 (52.3%)
R - 1,065,015 (45.1%)
So far almost 83% of primary voters have voted in the 2020 general election. Given that level of turnout it would be hard for the breakdown to get too far away from the average, but we do see a bit of a shift. In fact, the D margin increased by just over 3.5% from 7.2% to 10.8%.
D - 1,060,112 (54.2%)
R - 849,868 (43.4%)
But we should also note that almost exactly half of early voters (1,946,909 as of Satuday night's absentee file) did not vote in the primary. What if we looked at the demographics of those folks compared to the full early voting population.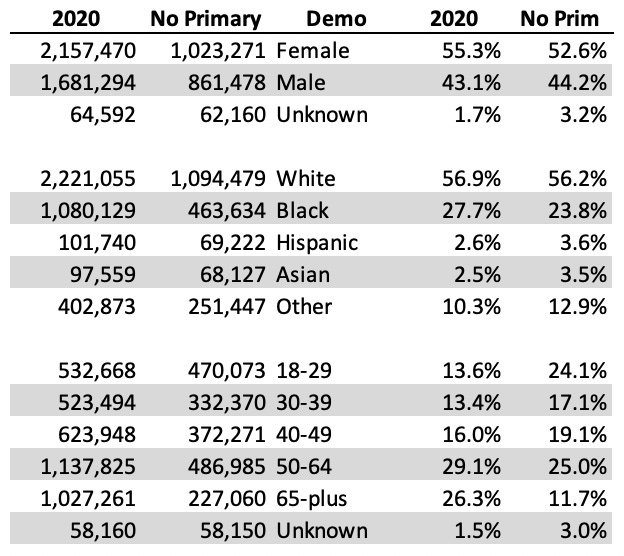 These non-primary voters are even more diverse (non-white voters up to 43.8%) and younger (41.2% under 40, 36.7% over 50). These two things can not be comforting for the statewide Republican candidates as we go into Tuesday.
---
Other Links
There's a lot going on in politics, so we wanted to also share a few other links that we found interesting this week.
- Savannah might be seeing the most forceful use of an ethics ordinance ever done in Georgia.
- Ever wonder how you remove a giant overturned cargo ship from a sandbar? Well you do it piece by piece with a big ole crane used in the offshore oil platform industry.
- The Trump rally in Rome this past Sunday reminded is how tough it is to get to Rome from anywhere and the reason is one family is powerful enough to keep it that way. H/T Greg Bluestein for the reminder
---
Closing
This is our last edition before real live vote totals start to come in. But don't worry, we'll keep talking about the voting data for a while. After all, once we get real results then this can all be a lot more fun: runoffs, and all that.
But if you want to kick off election eve together, Ryan will be chatting with Better Georgia on their Facebook page starting at 6pm. At least one toddler and/or dog will likely invade the stream, plus you can rate his Zoom room setup.
We continue to respond to what we are hearing. Please feel free to share your thoughts and questions, by responding to this email or reaching out to Ryan directly on Twitter (@gtryan).