10/26 - Who Votes When
The youngs and the olds have different voting behavior
Intro
As of Monday morning we've had 2.75 million people vote in the 2020 election. Even if we see no growth in the final week, and no mail-in ballots returned after Friday we're going to fly past 90% of 2016 turnout. Given that I don't think either of those things are very likely, we're probably on pace to pass 2016's total vote count of 4.110 million voters before election day.
---
Who Votes When
Early voting in Georgia is a 180-day process with a 3-week sprint to close. We're through two-thirds of that sprint with the busiest week of early voting still to come. But turnout doesn't just grow, the makeup of who is voting shifts over this period, and how that happens, or doesn't, can give us more insight into what we can expect on election night.
In general, the voting population tends to get younger and less white as early voting goes along, with the former being much more pronounced than the latter. And we've got some charts to help show this.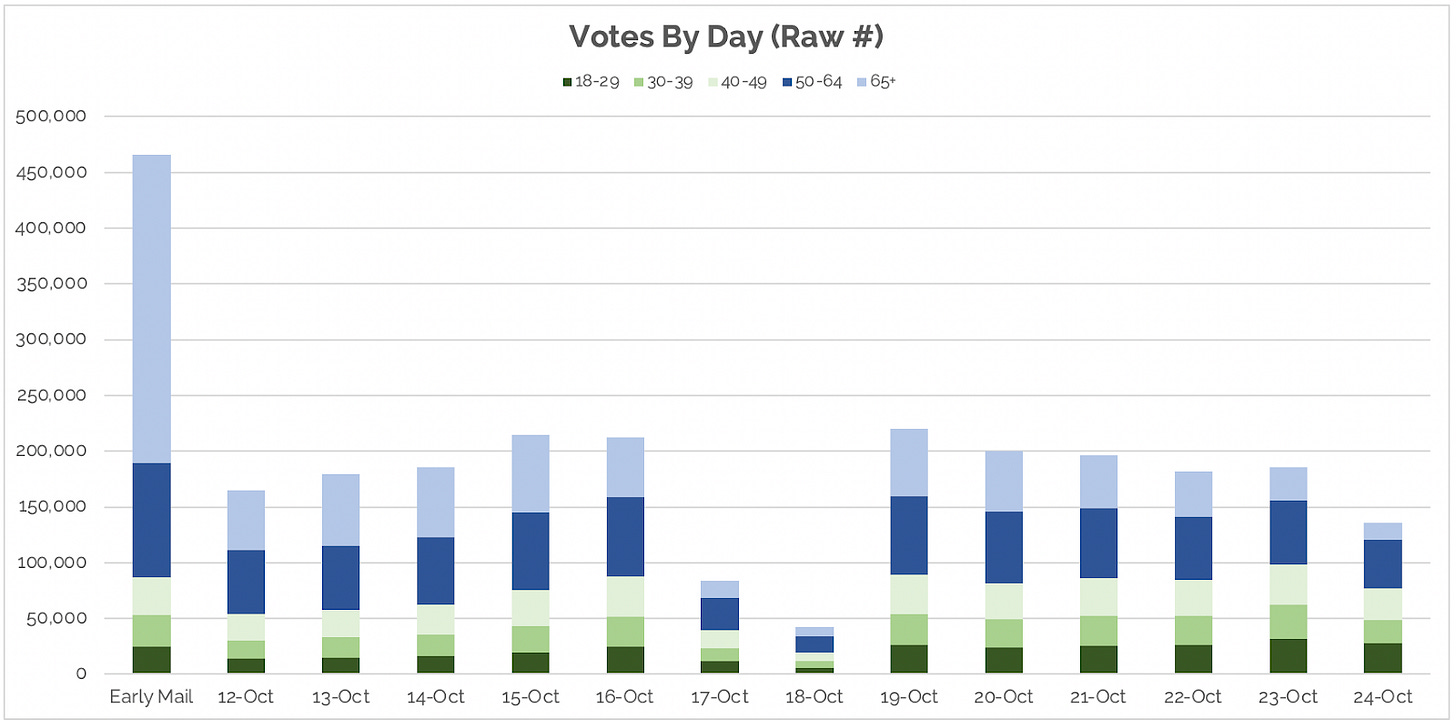 Now, this chart is great at showing just how many people are voting, but it isn't the best view of just how much the age demographics have shifted.
Also, it's worth noting that there is some fuzzy data in here as a lot of mail-in ballots end up getting back dated once they are processed to the day they came in. In other words, if we re-ran this chart at the end of next week you'd see a lot more votes in the week of October 19th.
But let's try a new chart, looking at the percentage of total votes cast each day by age bracket.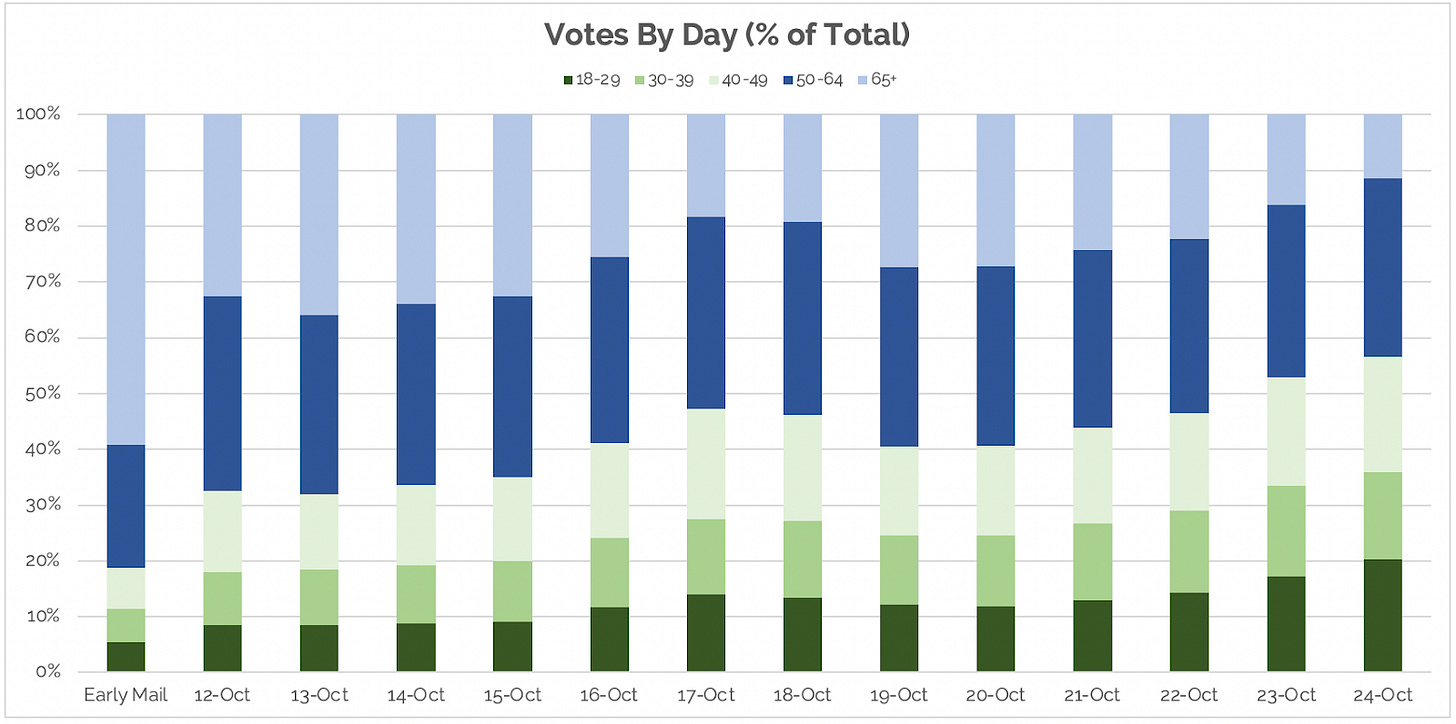 That's better! So far in the 2020 general election we've seen the percentage of 65+ year old voters drop from 59% of the early mail vote, to 32% of the first week of voting, and 24% of the most recent week. Meanwhile the percentage of voters under 40 has grown from 11% of early mail voters, to 20% of week-1 voters, and 27% of week 2 voters.
As mentioned previously, the breakdown by race is a lot more subtle. In fact, if we just look at the first 2 weeks we don't see much change at all.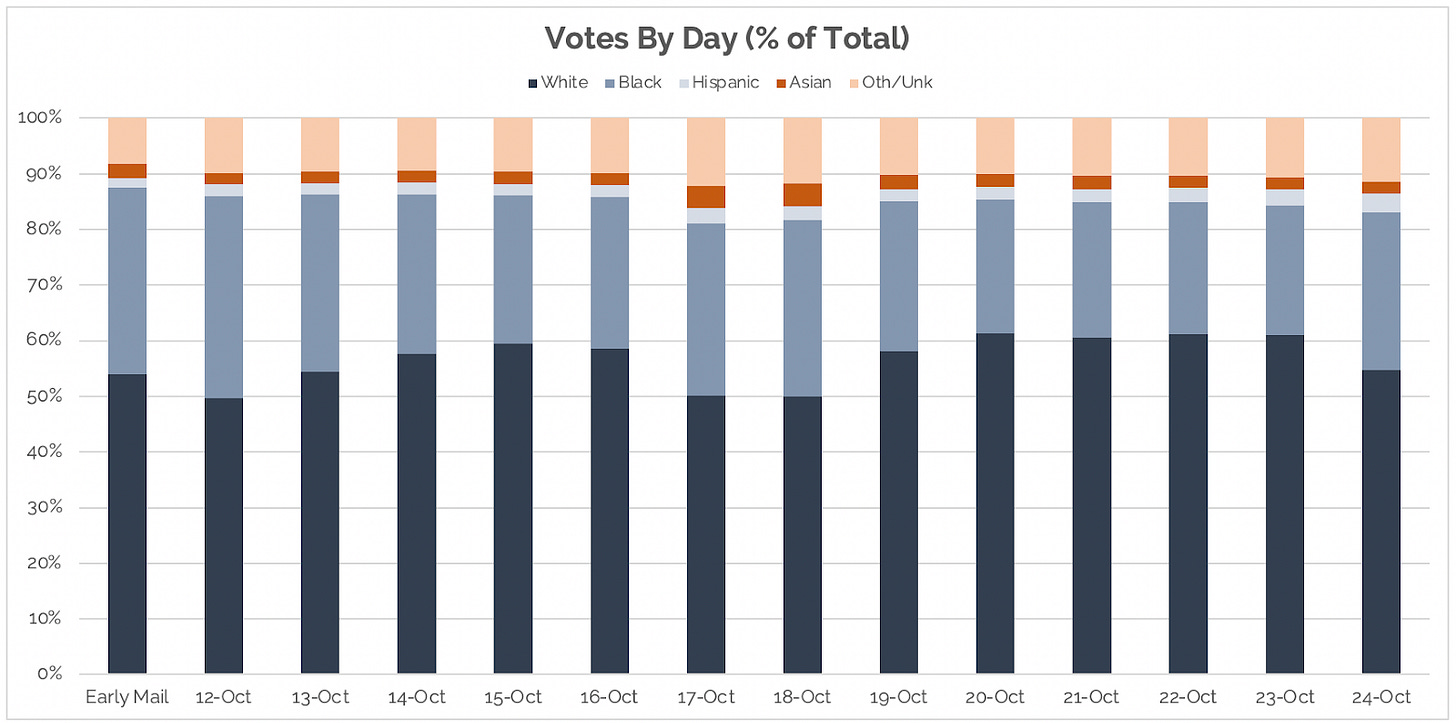 And this tracks with what we saw in 2016. The real change came in that cycle on the last few days of early voting, plus the Monday/Tuesday of election week when mail ballots were received.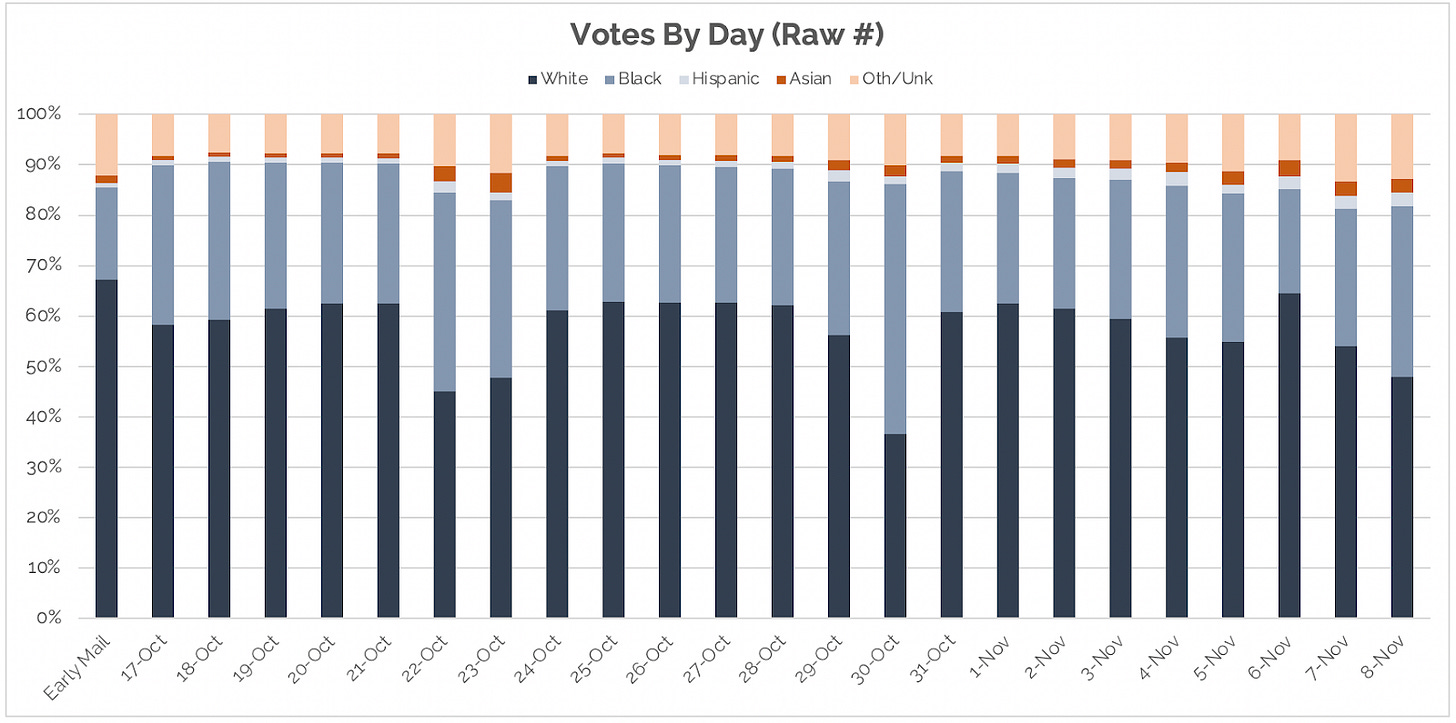 So this will be a measure to watch as well. However, we are still seeing a much more diverse electorate this go around than in 2016, and that's because of the far left bar.
The difference in racial breakdown for the "Early Mail" time period really does stand out is. As the total number of ballots received before early in-person voting skyrocketed from 58,000 to 466,000, the percentage of non-white voters grew from 33% to 46%. That is part of what has helped us get a place where more 65+ year old Black voters have already voted in 2020 than in all of 2016.
---
Shifting Ground in the Georgia 10th Congressional District
United States Representative Jody Hice (R) is a member of the Freedom Caucus, one of the most conservative members in the GOP caucus, and the heir to a district once represented by Rep. Paul Broun (R-Athens). That is to say you would think the 10th Congressional District that Rep. Hice represents would lean heavily to the right and see upwards of a 70% partisan lean in favor of Republicans. The Georgia 10th instead showcases the titling of population to metro Atlanta and thus an increase in more Democratic voting trends at the cost of rural Republican voters.
The 10th stretches from the eastern suburbs of Atlanta to the suburbs of Augusta and then dips into eastern central Georgia. While intended to be a solidly Republican rural district, the 10th encompasses the college communities of Athens and Milledgeville. This coupled with the changing demographics in Gwinnett and Henry Counties create a base for Democratic support.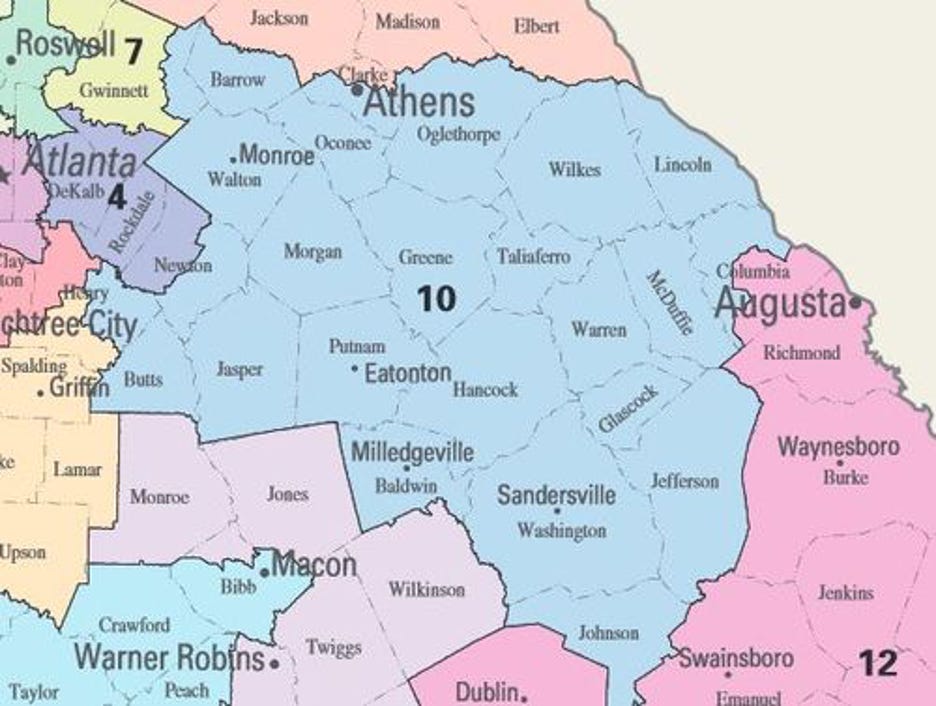 The June 9th Primary saw Democratic voters pull 45.1% of the ballots and Republicans pulled 54.9% of the ballots in the district. This marks a sign that the district is moving to a much more lean category of a district and not a solid Republican District that an incumbent with the record of Rep. Hice would tend to indicate. 
The one downside is any Democratic challenger would still have significant work to do to overcome the tilt of the district, but that tilt is lessening by the year. A more moderate Republican would be expected in this district, but Rep. Hice has the strongholds of Barrow and Walton County pretty much in his pocket and can block any primary challenge with that base of support. 
The big question will be whether Rep. Hice has enough friends in the legislature come redistricting to keep the Republican portions of his district, or does it get chopped up to help his fellow delegation members on both sides of the aisle. Adding in more of Henry, Columbia, Clarke, or Gwinnett counties would all hurt his chances. The more intriguing question: does a more middle Georgia based district get formed so that other incumbents in Atlanta and Augusta can gain more of their parties voters for the next 10 years. And in turn, does Athens finally get a true representative in the US House rather than being split among GA-09 and GA-10.
---
Other Links
There's a lot going on in politics, so we wanted to also share a few other links that we found interesting this week.
- The moment President Trump's campaign acknowledges Governor Kemp's executive orders on COVID-19 and treats them as just suggestions.
- A trio of Election Twitter folks have put together their combined ratings for Georgia's State House and State Senate districts. Checkout out what @NilesGApol, @EliUM2 and @NolesFan2011 have cooked up at this link.
---
Closing
We continue to respond to what we are hearing. Please feel free to share your thoughts and questions, by responding to this email or reaching out to Ryan directly on Twitter (@gtryan).