10/19 - More Charts, New Tables
And another look at GA-07
Intro
As sports weekends go this one was a little excessive even for the state of Georgia. But when it comes to voter participation, Georgia is setting new records and new expectations. 
The most exciting part of these early vote numbers is that over 20% of early voters statewide did not vote in the 2016 election, at least not in Georgia. It is tough to predict which way this new population of voters will break, but it is a clear signal that the old voter universe for Georgia politicos is about to be shattered. November 3rd will show which way future Georgia campaigns will go to attract Georgia voters. Even though we predict one endorsement will never get old any time soon in Georgia politics. 
---
My Blue 7th
You gotta know when to hold 'em. 
Know when to fold 'em. 
Know when to walk away.
Know when to run.
Rep. Rob Woodall (R) got out while the getting was good. The 7th Congressional District nearly flipped on the incumbent during the 2018 midterms and was close enough to remind a politician of the sudden urge to spend more time with their family. Now the early vote in 2020 shows the flip has been complete. 
Recently in Georgia the early voting has tended to lean more Democratic and this year will probably hold that to be even more true. But the resounding turnout in June shows the slight edge Republicans had held in this suburban district is gone. 56.5% of party-specific voters in the June 9th primary pulled a Democratic ballot while 43.5% pulled a Republican ballot. These numbers would demolish the 430 vote edge Woodall maintained to keep the district red in 2018. On top of that overall trend, nearly 25% of voters so far in this rapidly diversifying district did not vote in the 2016 election.
To even think of this seat as competitive at this point would take a massive in person day of turnout that would have to end up somewhere near 60% for the GOP, a tall task for any competitive district. Factor in the 2 to 1 Democratic campaign money advantage and the lack of any real outside spending by the NRCC or other Republican groups and you can officially say the 7th is a blue seat now with two weeks to go.
---
An Early Voting Surge Means New Functionality
The topline numbers everyone is used to seeing: As of this morning 1,483,192 people have cast a ballot in Georgia. This is 151% more than what we saw in 2016, and that gap seems to be growing. But where is this growth really happening?
The new sortable tables on the main County, House, Senate, and Congressional district pages will let you start to get a feel for that. If you click on the headers of the table you can sort everything by registered voters, total votes, specific types of votes, mail applications, and percentage of 2016's total turnout. Shoutout to Greene County!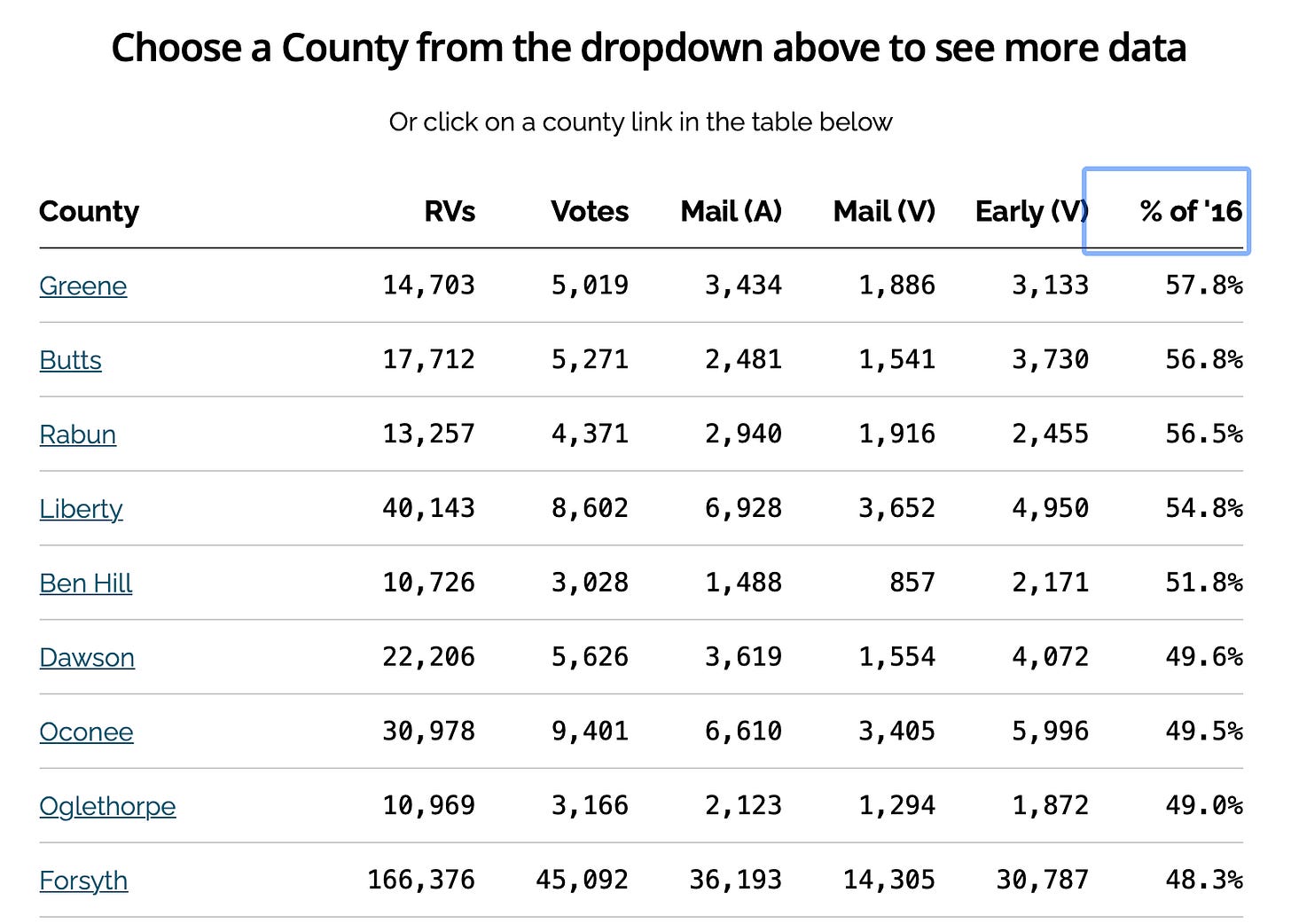 Another rabbit hole we went down was moving beyond the new people showing up to vote, and understanding behavior from voters who had voted early in 2016. This may help give us a better idea of how many votes are still out there for early voting.

We're tracking this on the front page now, with a new chart that will track it down, hopefully to zero assuming that everyone shows up to vote again this year. We have scrubbed the list to only include 2016 early voters who are still registered in the state of Georgia, so it's not inconceivable that we could see well over 1 million more early votes just from those folks.
There are two more updates left to come: plotting early vote behavior against key demographic trends (age, race, education level) and a single view of all the close races in the state. Keep an eye out!
---
Other Links
There's a lot going on in politics, so we wanted to also share a few other links that we found interesting this week.
- For the cherry on a depressing Georgia sports weekend the piece that should be titled The Death of Mr. Smith.
- Not that there is anything wrong with PT Cruisers, but definitely a brand that could have used not being included in a domestic terrorist plot.
---
Closing
Just two weeks remain in the general election and we are still digging to find things that aren't going noticed in the general Georgia punditry. Going forward we will also be looking post Nov. 3rd at the local races where the decisions really impact our day to day lives. We continue to respond to what we are hearing. Please feel free to share your thoughts and questions, by responding to this email or reaching out to Ryan directly on Twitter (@gtryan).